Hello Hunters and Friends, it is that time of year again, the temperatures rise and we await the rain.
Just a short run down of what we were up to this past season.
Thanks to those whom I had the pleasure of sharing the bush with this year.
Jim from Calgary, Canada
Todd from New Hampshire, USA
Juan and Fernanda from Santiago,Chile
Chris and Michelle from San Antonio, TX,USA
David, Stephen and Yulia from New Zealand
Ronnie from Houston TX, USA
Bob and Tim from Bangor ME,USA
Martin and Les from Natal South Africa
The 8 Guns from the bird shoot from as close as South Africa and as far as Cork Ireland.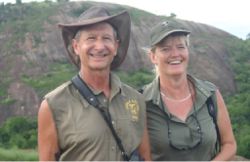 The season got off to a latish start with Jim from Canada arriving for his first African hunt, accompanied by his friends, Sandi and Wade.
Jim taking his first Buffalo from a close 20m and Wade, his first Leopard guided by Shaun Buffee. A wonderful safari and wonderful people.
Straight after this, Todd arrived with his Bow for a short Plains Game hunt, taking Zebra and Impala.
July now and the Chileans arrived- Juan and his daughter Fernanada - taking a wonderful Buffalo and some plains game.
This was followed closely by the Texans Chris and Michelle for their first African Safari. Chris, hunting with traditional open sights, a nice old Buffalo Bull, but the Jackal got away unscathed. Now you will have to come back.!!!
The Jennings from New Zealand arrived for a short overview of the Bubye Valley and were lucky enough to see Lion and both Black and White Rhino during their visit. I look forward to seeing your patch in NZ.
September now saw the arrival of Ronnie r with a bunch of mates from Texas. A 15 day safari saw a fair few Trophies in the shed, Ronnie achieving his plus 40s in Both Buffalo and Sable, with beautiful 42' and 43' specimens. That will do!! Good man, good shooting, and not forgetting the Honey Badger.
Fine friends, Fine WHISKY!!! You are welcome anytime.
Mid September and into the Matetsi blocks with old Friend of 20 years, Tim , and new Friend Bob both from Bangor Maine, hunting for Tuskless Elephant and Plains Game. Bob making some excellent long range shots and got his Steenbuck!!!
Late Season brought South Africans, Martin and Les, for Buffalo and Lion. After some hard work, taking a cat each - great shots Gentlemen.
Last but not least Jul, Stephen, Neville, Steff, Trevor, Ian, Johnny and Tony, a motley crew armed with shotguns for the last great driven Bird hunt, taking over 300 head of game comprising Guinea Fowl, Francolin and SandGrouse.
Definitely ended off with the Bang.
And that's it, my friends for another year. The sun sets as beautiful as always, the seasons change bringing the miracle of new Life, and the Dawn beckons with the Promise of new Adventures... Come and Join us!!!!
Remember; there is no wealth, but Life.
Scott & Carolyn