Baobab at sunrise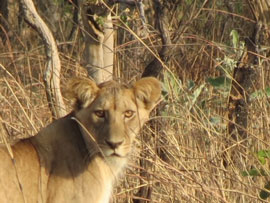 Young Lion on the Camaroon Savannah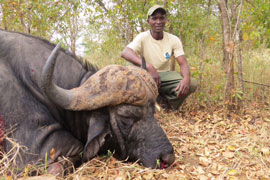 Tracker Gerald with one of Guy's Bulls
Beautiful 56" Kudu
Sunset
Greetings to you all from a rapidly changing world, especially here in Zimbabwe - change can only be good - well we will see!
First may I say a big thank you to all of you who mailed, phoned and messaged, when it seemed like Zim was on the brink of some potential mayhem. Thankfully it was just a changing of the guard, and little if anything happened, though I must say there are many less road blocks and harassment, which if that's the only change, it's Happy Days!!
Also thanks to all of you who came out to Africa to hunt with me/us. I appreciate your commitment, loyalty and above all, friendship.
Tom from Alaska.
Guy from Florida.
The Johansons from California.
Rod from Colorado
Jim from Tennessee
Payam, Pedram, Dezzie, and Armand from New Mexico
Hal from Texas
Great to see you, old friends and new ones alike.
We kicked off with an early Safari in Northern Cameroon for Lord Derby Eland - Tom taking a nice lone Eland Bull, and a bunch of plains game animals endemic to the area. Tom's brother, Bill, hunted with PH Pete Wood of the same camp. Hope to come fishing with you some day in Alaska, Tom.
After a few educational and non-consumptive trips in Zimbabwe, things got serious with the arrival of Guy and family on a return trip.  Hunting was the name, and Buffalo was the game, and hard we went at it too. After a prolonged rainy season, the bush was thick and green, and it was a good challenge to get close to those gnarly old dagga boys. Ably assisted by PH Terry Fenn, the lads came away with 6 no less, all nice old Bulls. Happy Days and well done to all.
Carolyn and mother Gwyn joined us for the half the hunt, keeping us entertained with all their fishing exploits, whilst the boys were out hunting.
For the first few days, a buddy of mine, Patrick (The Stick), was in camp, and just as well, as his skills at getting into locked vehicles came to the fore, when I locked the keys in the Cruiser! Thanks, mate.
During the latter half of the hunt, we were joined by Rod and Jim, two great Gentlemen, who enjoyed a good whisky and a spot of bird shooting.  Guided by PH Mark Brewer, Rod got this Kudu on the last morning of the hunt.
We look forward to seeing you all again soon, but this side, not your cold butt-freezing side!!!
Tracker Albert with trophies. A fair bag!
Summer was near and brought a festive group led by Armand from New Mexico. Brothers Payam and Pedram, together with their buddy Dezzie hunted with me, most of the time. The other chaps hunted with PH's, Shawn Kelly, Graham Major and Martin Naude.
So a bunch of stuff hit the deck from Buffalo, to Kudu, Nyala, Giraffe and everything inbetween. A great time with a good crowd.
October now and storm clouds gathering, Hal from Texas arrived, looking for the elusive Waterbuck, which he had not taken on 7 trips to Africa.
The stage was set for an epic battle to get "the one", and after a couple of days and a few showers, Hal was able to make a difficult, and excellent shot on a 29 ½" Waterbuck, followed by Nyala and an extremely good shot on a Klipspringer. Nice to share a camp with you again Hal, and look forward to hunting Elephant again with you when that day arrives!!!
My grateful thanks to go to all those who assisted with the season, from Trackers, Skinners, Drivers, Camp staff, office admin, taxidermists etc.  And of course, my long suffering spouse Carolyn, without whom, none of this would be possible.
We know not what the future holds, we count our Blessings, Friends, Family and the Wonderland of the Wild that God has provided for us, to be custodians of.
Happy Christmas and a Blessed New Year
Scott and Carolyn
Please note that not all full names etc have been used to protect hunters' identities in this world of misinformed public media.
However, a complete list is available as References to genuine Conservation Hunters.
Please don't hesitate to contact us on zindele@gmail.com