A Happy and hopefully more prosperous 2022 to you all.
We finally got into the bush end of November and into December 2020, just as the drought broke and the rains came with a vengeance, much to the delight of the bush and all the wildlife.
We had an invasion of scorpions just after the first rains, and it was difficult to walk round at night without bumping into them.
A couple even made it into Hunter James's room, much to his consternation. You are tough lad, James, don't worry, most of them won't kill you! Enough said.
Anyway, we had wonderful hunt with two hardy souls who braved the heat, the rain, and all the Covid regs.
With no one else to hassle us and the water very limited, it was great to be in the bush at that time just before and after the rain. We got drenched a few times, and the lads made it out just in time on their charter, with only a small window to make it back home to the US.
Well done lads, we do appreciate your time, effort, loyalty and business.
A great time, gentlemen, and well done!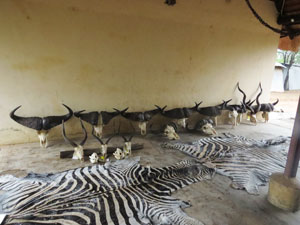 The Skinning Shed!
May of 2021 brought James back for his Leopard.
And can you believe it? He got his Leopard the first night in the blind, very Happy Days! And a fitting time as my Dad passed onto the Happy Hunting Grounds the same night!!! Karma for sure.
James went on to collect a wonderful Kudu, and of course, a charging Buffalo dropped at 7 paces with his Trusty Double, but that's a story for another time.
July also saw the return of long-time friends and hunters, the Nichols from Kentucky. I hunted with Ev when he was a 12 year old, now a strapping young lad and an Olympic swimmer. We had a great time taking down his first Buffalo after many stalks.
Ev's Dad, Richard, and his brother, Benjamin, hunted with Nigel Theisen, a renowned PH, taking a Beautiful Buffalo of 44". So Happy Days all round.
July done, brought August and a French family led by Jerome a well-known figure in the safari industry and in Tanzania.
Shaun Buffee and I shared PH duties, wonderful to see the whole extended family in the wilds and enjoying the bush. Well done to the parents for bringing them all out to explore and extend their appreciation of the natural world.
Special thanks to Caroline for bringing the Champagne enjoyed every night, you are most welcome back at any time!!!
September now and the hot and cold weather arrived together with a Dad, Son and Daughter from Texas.
All very skilled with the rifle, taking most quarry with one shot kills. Great achievement, well done guys and gals.
Prices and areas remain unchanged for 2022, but if you need any refreshers please see our Locations page and choose a country for more information.
Any questions, please don't hesitate to get hold of me on +263 772-236-062. This number is good on WhatsApp, Signal and Telegram, so whichever platform you use.
Also on Instagram Hunt_over_africa and contactable on email at zindele@gmail.com.
Thanks folks, we look forward to seeing you soon.
Scott and Carolyn Guthrie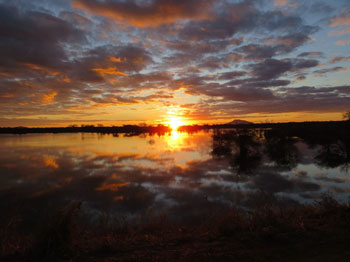 A beautiful sunset in the Zimbabwean Bush