Zindele Safari Company
---
2018 Price List
(All prices quoted in US Dollars)
1,2 million acres of Prime managed Wildlife Habitat
| Hunts: | Prices |
| --- | --- |
| Lion starting at: | $3,000/day |
| Buffalo starting at: | $1,400/day |
| Leopard starting at: | $1,400/day |
| Sable starting at: | $1,300/day |
| Plains Game starting at: | $700/day |
---
Government Concession on the border of the Famous Hwange Park
| Hunts: | Prices |
| --- | --- |
| Lion starting at: | $3,500/day |
| Elephant starting at: | $1,500/day |
| Buffalo starting at: | $1,400/day |
| Leopard starting at: | $1,300/day |
| Sable starting at: | $1,300/day |
| Plains Game starting at: | $750/day |
---
Areas controlled by the community from the Zambezi Valley in the North to Beltbridge in the South.
| Hunts: | Prices |
| --- | --- |
| Lion starting at: | $2,500/day |
| Elephant starting at: | $1450/day |
| Buffalo starting at: | $1,250/day |
| Leopard starting at: | $1,300/day |
| Sable starting at: | $1,100/day |
---
Please note that in all areas Combos of Various Animals are available, and Trophy Fees vary from area to area.
Any wounded animals must be paid for in full.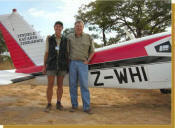 PLEASE NOTE PRICES SUBJECT TO CHANGE WITHOUT NOTICE.
* Daily Rate is inclusive of PH, Tracker, Skinner, food and accommodations for the duration of the hunt.
* All hunts include general Plains Game.
* Animals required must be specified at the time of booking.
Additional Costs:
Dipping, packing and freight of trophies
Government Taxes - 4%
CITIES tags for elephant, leopard and crocodile.
Gratuities
Transfers
Terms of Payment:
A deposit of 50% of the Daily Rates is required to confirm the booking of the safari. Dates for the hunt will not be held without the deposit.
The balance payment of the Daily Rates is payable no less than two months prior to the commencement of the hunt.
Trophy Fees and other costs are payable upon the conclusion of the hunt before departure.
There is no refund of deposits if the hunt is canceled however every effort will be made to reschedule your hunt,or transfer deposit to another Safari..
Zindele Safaris are not responsible for any losses, injuries, accidents or illnesses during your trip.
For more information regarding hunting in Zimbabwe, please contact Scott Guthrie. Scott will happily discuss your hunting wishes and help you set up your individualized African hunting experience.